We will dedicate our Locarno workshop this year to audience engagement in cinemas : how can distributors and cinemas collaborate better and increase audiences for their films?
We thank the Media Programme and the German Federal Film Board (FFA) for their support for this workshop.
The workshop will take place on Sat 10 August at the Hotel Belvédère (Via ai Monti della Trinità 44 in Locarno) between 9:30am and 5:30pm. Only opened to Europa Distribution members.
Please find here the complete Booklet of the workshop.
Please find here the Press Release sent on August 7 2013.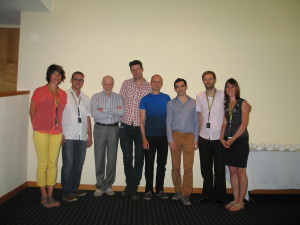 SATURDAY 10 AUGUST 
9:30-9:45: Introduction by Jan Naszewski, T-Mobile New Horizons IFF / New Europe Film Sales, Poland, Moderator
9:45-10:45: AUDIENCES
-       David Graham, Attentional, UK: Presentation of the MEDIA study on audiences
-       Seneit Debese, Debese Film, Germany: a new audience for cinema : the visually impaired persons and hard of hearing persons
Coffee Break
11:00-12:30: SOCIAL MEDIA
-       Dan Light, Glasseye Inc, UK: How to optimize your marketing campaign online?
-       Arnaud Reaute, Waveback, France: Waveback & the Digital Marketing
12:30-2:00: Lunch Break
2:00-3:15pm: TOOLS FOR DISTRIBUTORS & EXHBITORS
-       Andreas Baumann, Drei Freunde, Germany: collaboration between distributor and cinemas on Facebook Premieres.
-       Frank Braun, Neugass Kino AG, Switzerland: the Riffraff/Bourbaki/Houdin experiences
-       Anne Pouliquen, Distingo, France: tools for a successful collaboration between distributors and exhibitors
Coffee Break
3:30-5:30pm: ROUND TABLES
Round table #1: Social media
Round table #2: Exhibitors & Distributors relationships (including day & date strategies)
6:30-8pm: Happy Hour
8:30pm: Europa Distribution Dinner at Ristorante Bellavista
SUNDAY 11 AUGUST: STEP IN
Morning: Participation to Step In
1pm: Buyers and Sellers Lunch  (Hotel La Palma)
Afternoon : Industry and Carte Blanche screenings (see Industry Days programme)
6:30-8pm: Happy Hours 
2010

Workshop on digital for technical managers

2011

Workshop on digital for technical managers

2012

Workshop on marketing for heads of marketing

2013

Workshop on audience engagement for heads of sales and marketing