Last week, Europa Distribution was in Toulouse to award along with the CICAE the European Distributors and Exhibitors Prize for the 29th edition of Cine en Construcción, an event organized jointly by Toulouse and San Sebastian whose aim is to present top Latin-American films in post-production phase.
The jury was composed of two ED members, Jean Heijl (Just Entertainment, The Netherlands) and Claudia Bedogni (Satine Film, Italy) and of Alain Bouffartigue (Réseau Ciné32, France) for the CICAE. They awarded the Brazilian film  Don't swallow my heart, Alligator girl! by Felipe Bragança (Brazil) which tells the story of a young Brazilan boy falling in love with a Paraguayan indigenous girl:
The border between Brazil and Paraguay: living on opposite sides of a big river, Brazilian boy Joca falls in love with indigenous-Paraguayan girl Basano. A magical tale of impossible love and adventure in this land full of memories of colonial wars and indigenous genocide. 
The jury of  European Distributors & Exhibitors salutes « the approach of this film in evoking an ancestral conflict through the poetic story of the love between two youngsters from hostile communities » .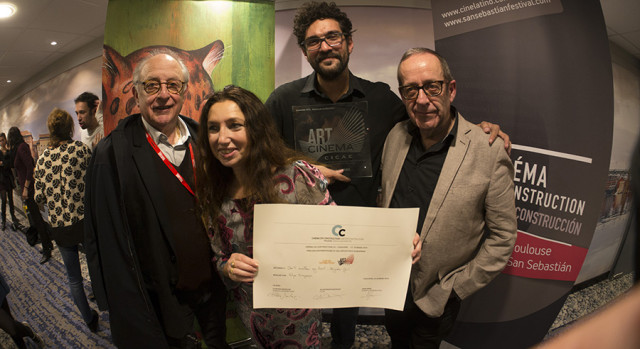 Alain Bouffartigue, Claudia Bedogni, Felipe Bragança and Jean Heijl. Credit picture: Adam Paul
Films previously awarded the Distributors & Exhibitors Prize have had successful paths:  Desde Allá (winner 2015) was awarded the Golden Lion in Venise and Aûsencia  (winner 2014) was selected at the Berlinale 2015 in the Panorama section.
As a reminder, international distributors can get support from Cinema do Brazil when they release Brazilian films. They award up to US$ 15,000 : more info on their website
The following institutions offer support to the distribution of non-European films. Click on the links to check their guidelines and eligibility criteria (they are not cumulable with each other):
Hubert Bals Fund + Europe
World Cinema Fund Europe
IDFA Bertha Fund Europe
Torino Film Lab Production & Distribution Fund
Don't Swallow My Heart, Alligator Girl!
Director: Felipe Bragança
Country: Brazil
Original version: Portuguese
Year of production: 2015
Contact: D.M. Filmes