by Claire La Combe
DIVERGE, first feature film by the American James Morrison, has just won the prize of the 4th edition of US in progress Paris. The jury, composed by ten different professionals, including Christelle Oscar (Haut et Court, France) as member of Europa Distribution, elected this project among four other works-in-progress presented during the US indie event[1].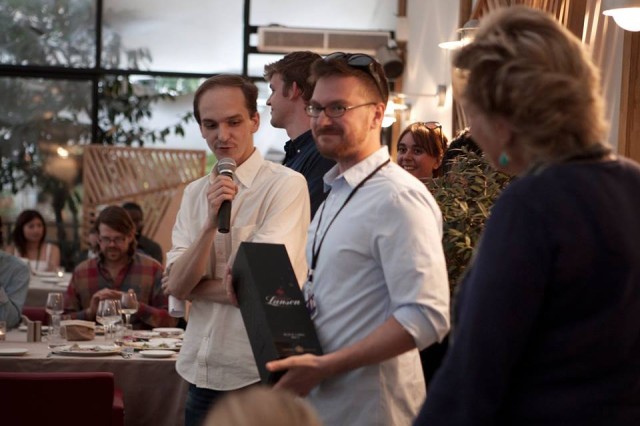 Picture by Pascale Arnaud
DIVERGE is a sci-fi thriller which follows a man deprived from his loved ones after a global catastrophe. When the latter is given a chance to travel back time and kill the man responsible for the disaster, he makes a dreadful discovery: he is the one responsible for it. "DIVERGE is the work we found the most advanced: it is a small budget film and the story, with still some work to be done, is really there" shared the jury member Julie Bergeron from the Marché du Film of Cannes.
The award consists in several services from post-production provided by Titra TVS, Commune Image and Eaux Vives Productions, a pre-sale to French channel Ciné+; registration at next year's Cannes Marché offered by the Producers Network, a special screening at the Centre Phi in Montreal and promotion on the Kickstarter site.  "US in progress gives an opportunity to move forward and to finally put something up on a screen. It's encouraging to know that there is people out there to take time to look at your film" declared James Morrison with enthusiasm.
Until now, this genre film has only been financed by private money and via a homemade crowd funding action set up by the producers' team from Young Gunner on the film official page (here).  They are currently looking for non-American partners and connections with European independent distributors.
If interested, here are there contact details: James Morrison (email hidden; JavaScript is required); Noah Lang (email hidden; JavaScript is required); David Mandel (email hidden; JavaScript is required); Matthew Smaglik (email hidden; JavaScript is required).
---
[1]
      [1]      More information on the 2015 US IN PROGRESS edition in Paris : click here